---

Nuerocore Fruit Punch Flavor

SKU/Code

:
---
Details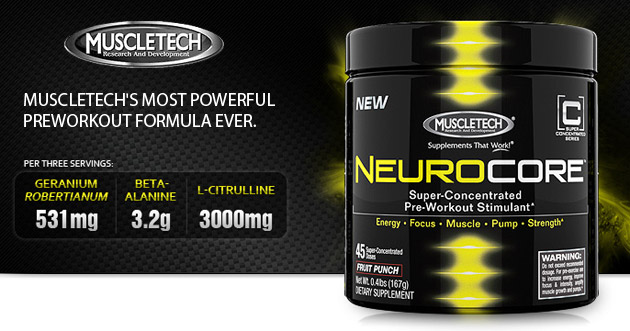 Super-Concentrated Pre-Workout Stimulant


Neurocore has been formulated with key ingredients such as beta-alanine, L-citrulline, creatine hydrochloride and Geranium robertianum to deliver a superior training experience unlike anything available on the market today.



What can I expect to feel on Neurocore?


Neurocore is a super-concentrated pre-workout performance-enhancing stimulant formulated to deliver intense energy, mental focus, increased muscle and strength and awesome muscle pumps for an outstanding training experience.



How do I take Neurocore?


As always, read the label carefully and follow the directions. Under no circumstances should you exceed the recommended dosage! Shake container thoroughly before use. Due to extreme potency, it's highly recommended to assess tolerance by using a 1-scoop serving before consuming a full dose, especially if you are sensitive to stimulants. Mix 1 serving (1 scoop) with 3-4 ounces of cold water and consume 30-45 minutes before activity. Once you have assessed your tolerance increase the dose to 3 servings (3 scoops) mixed in 12 ounces of water. Do not exceed 3 scoops in a 24-hour period. Drink 8-10 glasses of water daily for general good health.